Dr Ken Harrison is dressed in a wetsuit, flippers, goggles and mask, and hanging out of a CareFlight helicopter.
Below him, a boat in the Sydney to Hobart yacht race is battling a low-pressure system that's brought howling winds and high seas.
It's 1998, and the conditions are terrifying.
Later, this race will become known as the deadliest in Australian sailing history.
Six sailors drown, and more than 40 are rescued.
Of the 115 starters, only 44 limp up the Derwent to the finish line.
"I was hanging out of the CareFlight helicopter dressed in wetsuit, flippers, googles and a mask and strapped to a harness, looking down on a boat that had just been swamped by an 80 foot wave," said Ken Harrison, Westmead Hospital trauma consultant, anaesthetist, CareFlight director of education and State Retrieval consultant.
My overriding thought was 'I hope I don't have to go down there on the winch wire'."
It's one memory in a 25-year career peppered with incredible highs – and heartbreaking lows.
In 2004, the father-of-two was dispatched to Banda Aceh in Indonesia.
The city had been devastated by a magnitude nine earthquake – a magnitude so powerful it made the earth wobble on its axis – and a subsequent tsunami that killed more than 170,000 people.
Among those he treated was a 12-year-old boy who had breathing difficulties from pneumonia.
"He used all the strength in his tiny body just to breathe," Ken said.
"But despite the use of modern medicine including antibiotic, ventolin and oxygen, he deteriorated.
"At the time, the working conditions and resources in Aceh were difficult and stretched – unlike here where we have specialised teams, the best equipment and resources.
"They didn't have that luxury, and after much consultation with my colleagues we made the decision to make the patient as comfortable as possible, and he died that night."
At Westmead Hospital, Ken works with a team that tackles some of the most serious traumas in the state – many of them the result of boating or vehicle accidents.
He describes his colleagues as "dedicated, specialised and caring."
"Each day, we are unsure of what we're going to receive or expect," he said.
"It's rewarding when, as a team, you work long and hard on treating a trauma patient and they recover, but it's difficult when they don't survive and I speak to the family and relatives.
"Those talks are something that you don't get over easily."
Ken is also an acute medical consultant to oral health, and plays an important and long-standing role as MC and organiser in the annual award-winning bstreetsmart youth road forum, which educates young drivers about the importance of road safety by using real-life, graphic examples of the consequences of dangerous driving.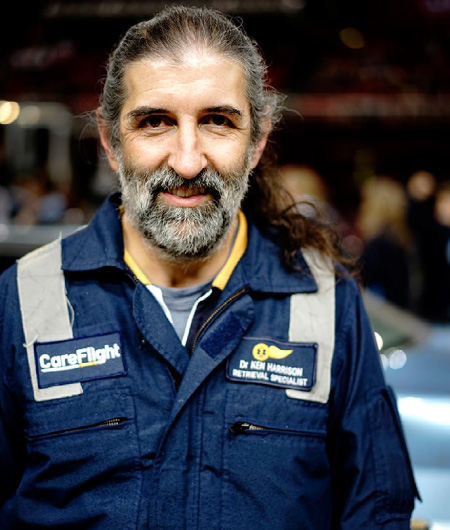 Westmead Hospital's trauma consultant, anaesthetist and Careflight director of education Ken Harrison.
Story appeared: The Pulse | March 2017, First Edition